Dentist Munich Downtown in Almeida-Palais
The right partner for every procedure – quality and performance under one roof.
Welcome to the website for the Almeida-Palais dental practice. Our dental practice at Maximiliansplatz in Munich's city centre is not only centrally located, but also brings together a number of dentists with different specialisations under one roof, so that you don't need to visit multiple dentists for one procedure. Dentist Frederik Petz and his colleagues represent high-quality dentistry and service. We are there when you need us. This means we are available until 8pm during the week and until 6pm on Fridays and Saturdays.
Alongside typical dental treatments, the range of services offered by our dental practice in the centre of Munich includes, among other fields, periodontology, implantology, endodontics (root canal procedures), aesthetics & Invisalign splint therapy as well as modern dental prostheses.
Come and experience our services for yourself. We look forward to hearing from you!
Your dentists at Almeida Palais Munich
Frederik Petz & colleagues
---
Why you should choose us
We have compiled a list of the reasons that underline the trustworthiness and competence of our dental practice. This is because we would like to help you find the right dentist to provide you with the right treatment.
Multiple dentists - a wide range of skills
Our practice combines many different skills under one roof. For you as the patient, this means increased convenience during your treatment as there is no need to refer you elsewhere. We hope the following example will help you understand the value of this. Let's say you decide to have a dental implant fitted. First of all, a three-dimensional image of the area would be created using digital volume tomography in our practice. The fitting of the implant - done under local anaesthetic - is also carried out in the practice as an outpatient procedure. The crown that will ultimately be inserted into the implant is produced by hand by our expert dental technician in our own practice laboratory and fitted by our prosthetics specialist.
For you, this results in short distances between treatment phases (and no need for referrals), fewer appointments and makes sure you are always treated by specialists.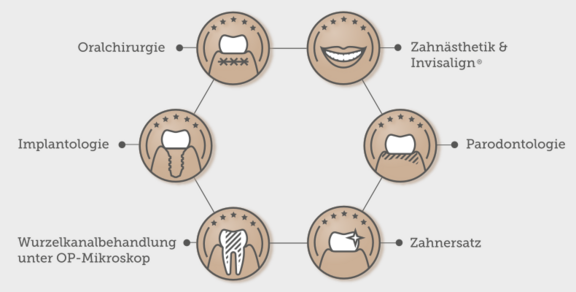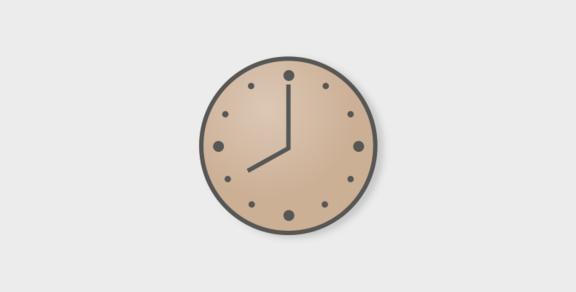 Extended consultation hours
Who hasn't had to face the challenge of trying to fit private appointments around their job and everyday lives?
We always prefer it if you come to see us when you have the time to do so. That's why we offer extended consultation hours to make life easier for our clients - those hours are 8am until 8pm on weekdays, and 10am until 6pm on Saturdays.
Central location - easily reachable and fully accessible
Our practice is located at Briennerstraße 14, just a few steps away from Maximiliansplatz and Odeonsplatz. The 1st floor can easily be accessed using the lift.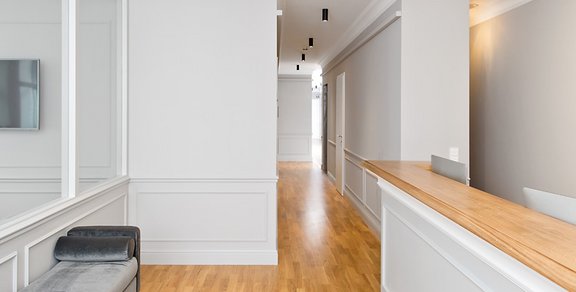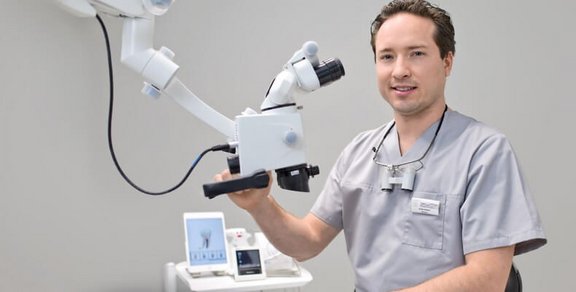 Our own laboratory with an expert dental technician
We have our own dental technician laboratory in the practice. This ensures your treatments are as simple and swift as possible. A close collaboration between dentist and technician facilitates optimal results in the shortest possible time. Our dental technician laboratory works with premium materials and the utmost diligence.
Excellent service as a matter of course
We're happy to offer you a coffee or a glass of water as part of our free drinks service. Free parking spaces for bicycles are located directly in front of the practice in the heart of Munich's city centre. Please don't hesitate to talk to us about matters concerning financing and reimbursements either. We want to keep your treatment affordable and can provide you with information about paying by instalments and possible reimbursements. We believe that good service begins as soon you arrive at reception. Our friendly practice team is happy to help you with your requests and concerns at any time - all as a matter of course!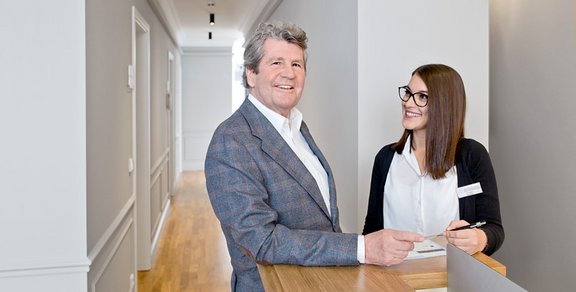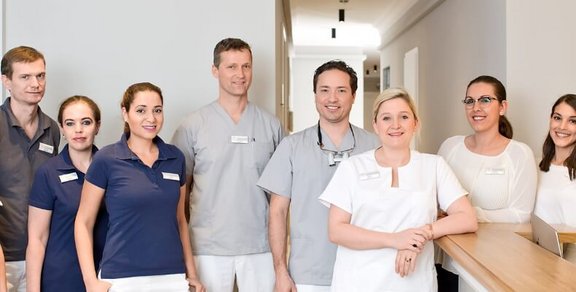 Special features of our range of treatment
Micro-endodontic (root-canal) treatments
Laser therapy for periodontics
Virtually painless and precise Wand/STA™ local anaesthetic that minimises tissue damage
'Teeth in a day' - express implants and immediate treatment in a single appointment
---
How to find our dental practice in munich's city centre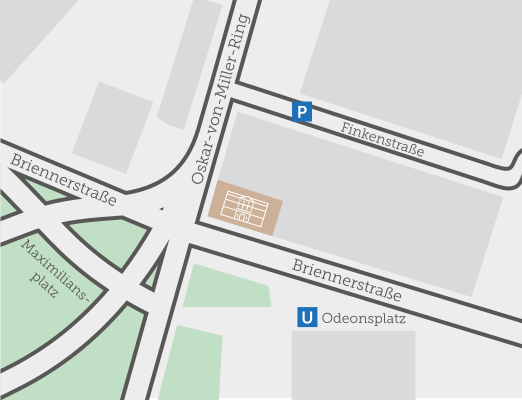 Our practice is located in the Almeida Palais at Briennerstraße 14 in Munich's city centre, on the eastern side of Maximiliansplatz.
The practice is easy to reach by car or by public transport.
The U-Bahn station Odeonsplatz, serving the lines U4 and U5, is situated directly opposite the practice.
It is also possible to park close to the practice. There are parking spaces on Finkenstraße (parallel to Briennerstraße) as well as in the nearby car parks.
The Salvatorgarage car park is just 2 minutes away, and the Oberpollinger car park around 5 minutes away.
---
Kontakt
Sprechzeiten
| | |
| --- | --- |
| Montag | 08.00 - 20.00 Uhr |
| Dienstag | 08.00 - 20.00 Uhr |
| Mittwoch | 08.00 - 20.00 Uhr |
| Donnerstag | 08.00 - 20.00 Uhr |
| Freitag | 08.00 - 18.00 Uhr |
| Samstag | 10.00 - 18.00 Uhr |
---